The PDF converter software, PDZFilla, is now completely free for a limited period.  This isn't like any other PDF conversion software though as PDFZilla doesn't convert your documents into Adobe's portable document format, instead it can convert PDFs back into editable files.
It's main features include…
Convert PDF to Word
Convert PDF to Word with all text and Graphical data.
Convert PDF to RTF
Convert PDF to Rich Text Files. You can edit all text and graphic by Windows Wordpad.
Convert PDF to TXT
Convert PDF to plain text files. You can edit text by Notepad.
Convert PDF to Images
Convert PDF to BMP, JPG, GIF or TIF files.
Convert PDF to HTML
Convert PDF to HTML files and automatically generate the Index file.
Convert PDF to SWF
Convert PDF to Shockwave Flash Animation files which can be published on websites.
Page Selection
Convert all the pages, or partial pages of PDF file.
Easy to use software
Add a PDF File -> Select the Output File Format -> Click on Start Converting button, then just have a cup of coffee
This software is normally $29.95 but is completely free until February 5th 2011.  You can download your copy here where you will also find a product code.  The best thing about all this is that it's just a simple download and there's no need to register with the website and give away all your marketing details.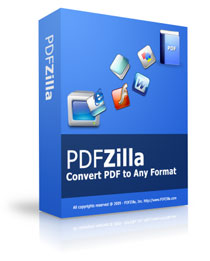 Powerful PDF Converter – PDFZilla

Name: PDFZilla


Type: Shareware


Size: 5.8MB


Price: $29.95 USD
Now For Only $0 USD


Registration Code:
8061822TWDV6YUK




Tell Your Friends Follow Us On Twitter
NOTE: This PDFZilla Time-limited Giveaway Promotion will be CLOSED on Feb 5th, 2011.
PDFZilla Screenshot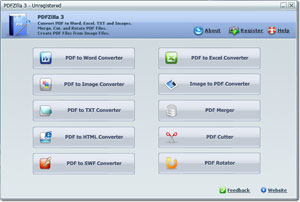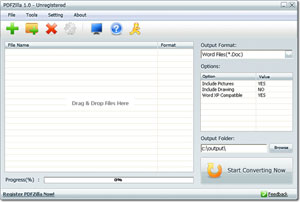 Learn How To Convert PDF Files
PDFZilla Key Features
Convert PDF to Word
Convert PDF to Word with all text and Graphical data.
Convert PDF to RTF
Convert PDF to Rich Text Files. You can edit all text and graphic by Windows Wordpad.
Convert PDF to TXT
Convert PDF to plain text files. You can edit text by Notepad.
Convert PDF to Images
Convert PDF to BMP, JPG, GIF or TIF files.
Convert PDF to HTML
Convert PDF to HTML files and automatically generate the Index file.
Convert PDF to SWF
Convert PDF to Shockwave Flash Animation files which can be published on websites.
Page Selection
Convert all the pages, or partial pages of PDF file.
Easy to use software
Add a PDF File -> Select the Output File Format -> Click on Start Converting button, then just have a cup of coffee