Sometimes it's useful to work offline, and once the article it's finished publish it on your Blog.
yes you can do it with an html editor, or also with a simple text editor like Vi or Emacs, but there are specialized programs that can ease your work of publishing and management of your online Blog.
So we'll take a look at Scribefire, BloGTK, Blogilo and Qumana.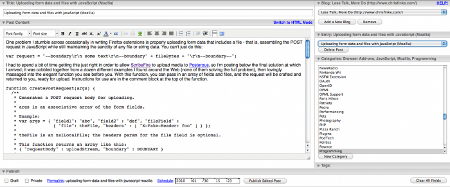 Scribefire in editing mode
Scribefire it's a browser extension (available for Firefox, Chrome and Opera), recently the new version has been deployed: scribefire-next.
ScribeFire is a full-featured blog editor that integrates with the browser and lets you easily post to all of your blogs.
Features
Simple interface that comes up in a tab where you can edit visually, or you can use HTML or Markdown.
You can post to blogs from WordPress, Blogger, TypePad, Windows Live Spaces, Tumblr, Posterous, Xanga, LiveJournal, or any other blog that supports the MetaWeblog or MovableType APIs.
You can edit and update existing posts. You can schedule posts for the future (if your blog allows that). You can delete posts. You can save drafts. You can tag and categorize.
Another feature of scribefire it's the ability to post the same article to multiple blogs, once you have published on the first you'll be given the choice to publish it to any of your other blogs.
Ok, this is not a specific Linux application, but works fine and you can use it on any desktop environment without any problem.
As the name let guess, this is a blog client specific for GTK environment, so Gnome mainly, but can be run on any desktop Environment.
BloGTK is written using Python and PyGTK,
With BloGTK you can post on Blogger, WordPress, and any blog that's compatible with Movable Type. BloGTK makes managing blog posts easy, especially for people who have multiple blogs.
In general BloGTK works with any blogging system that supports XML-RPC publishing.
For writing an article It's possible to select WYSIWYG mode or full HTM and you can have a preview of your work.
The big problem that i see in this tool it's that isn't updated any more, the last release it's from January 2009, after that there are only some minor bug fixes, so you can think at it as a mature software that has ended his life, or perhaps it's simply not developed anymore.
Blogilo html Editor
Blogilo means "Blog Tool" in Esperanto.
Blogilo is the tool developed by the KDE community to write and publish posts on blogs. The tool is very simple, and can handle most of the blogging platforms on the network including: Blogger1.0, MetaWeblog, MovableType (WordPress) and Google GData (used on Blogspot.com) APIs!
The main screen allows you to write a new post, on the selected blog (thanks to a comfortable combobox present in the toolbox at the top), you can use a WYSIWYG editor or an HTML editor, there is also a handy preview function of the post, that applies to the post that you are editing the CSS of your blog.
On the right side there is another toolbox that contains a list of recent blog post, categories and tags to associate with the post during the editing and the publishing options (draft, public, etc.).
Finally, you can either save a draft of the local post, and/or proceed to upload to your blog and publish it.
Like BloGTK this software is not updated from some time, last release it's the 1.0.1 released in February 2010.
Qumana it's a simple application that allow to post to multiple blogs and blog platforms without the need to log in to the service, is written in Java and therefore available for other platforms.
The WYSIWYG editor allows you to insert text and images by dragging the files we have on the PC with just a copy and paste.
Qumana allows you to send the same post to multiple blogs.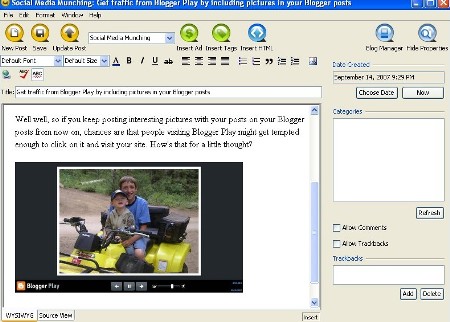 Qumana features include easy text formatting and image insertion, simple Technorati tagging, and advertising insertion with Q Ads.
For the Ads Qumana it's affiliated with adgenta/.
Features
It can operate on Windows, Linux,  and Mac platform.
Rich WYSIWYG (What You See Is What You Get) editor with basic features such as bold, italic, underline, text and image alignment, list, blockquote, indent and outdent, insert links.
Underline word that are spelled wrong with red
It includes a spell checker. You can configure the spell checker to check the spelling of the post as you type.
Insert ads into the blog posts in one click.
Allows Technorati tagging
Set the time stamp of the posts
Allow or Disallow Comments
Save the entries as drafts and publish them at a future date
Users can edit the posts that are already published from the Blog Manager
Easily upload image from your computer
Conclusions
To be honest i'm not satisfied of my small research in this niche of programs, a lot of them are not developed anymore and I've not saw the stunning features i'm used in other kind of programs. Perhaps the web interfaces are just too good, and so there isn't so much effort in doing desktop applications.
Personally, at the moment, the one that i prefer it's Scribus it's lightweight, integrated with a Browser and so you can easily use it on different platforms.